BJE March of the Living
Teen Delegation
Trip Dates: April 18* – May 4, 2020
(*April 18th flight departs after Shabbat ends)

Account Login
Apply for Waitlist - Official registration for 2020 BJE March of the Living has closed.  We are currently accepting applications for the wait list.  If you have any questions please contact our office at 323.761.8609.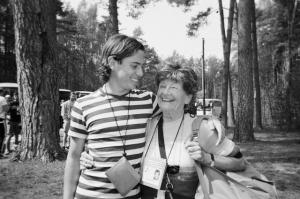 BJE March of the Living is a two-week experiential education program for high school students where they travel to Poland and Israel to learn about their Jewish past, present and future.  The guiding philosophy of the program is to fully immerse participants in meaningful experiences that will prepare them for and propel them into adulthood ready to: remember, educate and act.  The two-week experience is built around the group commemorating Yom Hashoah (Holocaust Remembrance Day) in Poland and celebrating Yom Ha'Atzmaut (Israel's Independence Day) in Israel.  The Los Angeles delegation is extremely fortunate to be joined each year by Holocaust Survivors who share personal experiences about their lives and create lasting relationships with the teens.
The fee for this unique program, including round-trip travel from Los Angeles, room and board, tuition and varied social and cultural programs, is $6,895 (rate is generously subsidized by BJE, The Jewish Federation and International March of the Living).
Please note that financial assistance is available from various sources. There are individual subsidies and grants, as well as need-based assistance available. 
Additional Information:
Trip Dates: April 18th(flight departs after Shabbat ends) – May 4th, 2020
Cost: $6,895 (includes all flights, lodging & activities) – Please note, various grants and needs-based Financial Aid opportunities are available. Trip Payment Information & Cancellation Policy
Eligibility: Open to incoming 12th grade high school students from the Los Angeles area.

Security

: Safety and security is a top priority for BJE March of the Living.  International MOL Security Guidelines and Regulations.
Food: All food provided by March of the Living is certified Glatt Kosher Sample Menu
What to Bring:  One checked bag, one carry-on & one personal item allowed. Sample Packing List
Program: Sample Itinerary
Pre-Trip Requirements:

Personal Interview (teen will be contacted after application is received to schedule)
Three Pre-Trip Workshops – Save the Dates!

Staff: There is a 1:10 staff ratio.  BJE March of the Living staff includes counselors, medical team, mental health professional, song leader and historians.
Survivors:  Read the stories of Survivors who participated in the 2019 BJE March of the Living! Survivor Bio's
Meet the Team:
For more information Candace Brand (Program Assistant) at (323) 761-8609.
Testimonies & Quotes 

"My March of the Living experience exceeded my every expectation. I was reminded of the importance of fighting antisemitism today and I made a commitment to dedicate my life to pursuing social justice through a Jewish lens. Thank you for making it possible for students like me to have the life changing experience of marching in Auschwitz and in Israel alongside Holocaust survivors. This program is one that has, and will continue to, contribute strongly to my Jewish identity." ~L. Kamran, 2019
"This trip has completely changed my life. It's difficult to even put into words how I felt after this experience. From the horror, intensity, and power of the Poland experience, to the joy, hope, and gratitude of being in Israel, it was a rollercoaster of emotions. This trip helped strengthen my Jewish identity and sense of responsibility to the Jewish people and the state of Israel. To educate myself on all platforms about world issues, especially those regarding Israel and Judaism. I can't thank you enough for your donations that allowed me, and every teen that attended the trip, to embark on such a life changing journey. Thank you from the bottom of my heart. Sincerely, Sophie" ~S. Kaplan, 2019
"The most powerful memory from our week in Poland was the time we spent at the mass grave in Zbylitowska Gora. Not only was the content so powerful and the memory of what happened there, but also the whole atmosphere and the mood created both naturally by the setting and by all of the staff. The expectations were set before we left the busses and so people were more ready to listen. Maya and Liat both led an amazingly powerful discussion and ceremony for the victims that left not a single person emotional." ~E. Nulman, 2019
"The time we spent at the Israeli high school was amazing. It was so wonderful to learn what they thought about Israel growing up there and having such a close connection to it compared to our connection living in the Diaspora. I thought it was just really fun to spend time with other teenagers and just get to know some of them."   ~M. Nour-Omid, 2019 
 
BJE- March of the Living (Los Angeles) Experience Video