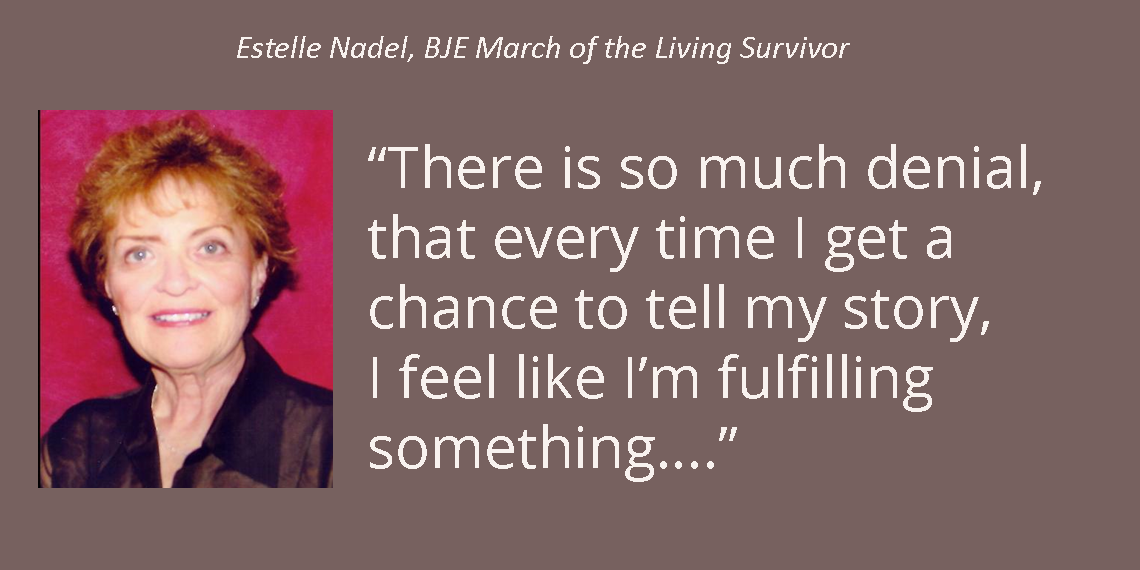 Estelle Nadel, Holocaust Survivor and BJE Builder
On Friday, May 15th at 2:30 PM teens, parents and survivors came together through a Zoom meeting to hear the incredible story of Estelle Nadel, BJE March of the Living Holocaust Survivor.  While on the March, teens typically have the opportunity to hear the stories of our Survivors each day as we travel from site to site. Since we were not able to do this with teens this year, Survivors will be sharing their stories of resiliency, strength and endurance with teens, family and friends through the BJE March of the Living Survivor Talk series.
​Estelle Nadel was only a child when she and her brother escaped Nazi captivity through a tiny window in their jail cell. Once free, Estelle and her brother lived in hiding for two years and ultimately arrived in the United States in 1947. She attributes her survival to singing and music as a personal escape from the horrors she came face to face with.
It took Estelle a long time to start sharing her story of survival but now that she does, she says that she feels called to speak. As a witness to the Holocaust's horrors, she feels that it is her duty to rebuke those who deny that it happened. "There's very few survivors left, and a lot of them don't want to talk about it. I want the world to know that there was a Holocaust." she said. "There's so much denial, that every time I get a chance to tell my story, I feel like I'm fulfilling something, for something that people are denying."
Space is limited and will be on a first come, first serve basis.  Please contact Liat Vorobiev for a link and log on credentials.
Estelle will also allow time for a few questions at the end. Special thanks to Sabrina Cohensedgh (BJE MOTL 2020 alum from Milken) and  Ann Mizrahi (BJE MOTL 2020 alum from de Toledo) for being a part of the planning process. We look forward to having you join us!