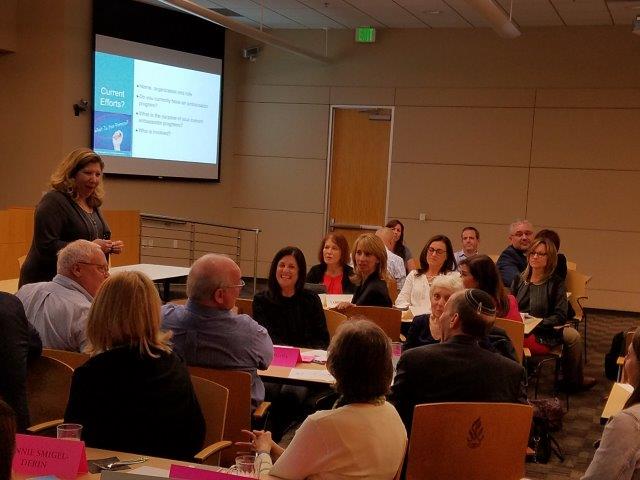 Nanette Fridman Series of Workshops - Held October 16, 2018
On Tuesday, October 16, 2018 lay and professional leaders at BJE affiliated schools expanded their skills through a series of workshops featuring Nanette Fridman of Fridman Strategies. Nanette is an internationally respected leadership coach, consultant, trainer and author, with over 20 years of experience working with nonprofits.
 
Each of Nanette's workshops focused on "ambassadorship" as a catalyst for growth and engagement in our schools.

She began her day with Day School Admissions, Marketing and Development professionals, followed by a session for Early Childhood Directors, and later with Heads of School and board leaders as part of the BJE Leading Together: BJE's Board Development Workshop. Since October 2017, the Leading Together Cohort has had the opportunity to learn from widely recognized experts in the field about the challenges and opportunities they face in their roles as school leaders. Individualized leadership coaching has also been available for each school.
 
Funding for BJE Leading Together program was provided by a generous grant from the Glazer Family Foundation and other private donors. BJE's Center for Excellence in Early Childhood and Day School Education enjoys significant support from the Jewish Federation.
For more information contact Rabbi Jim Rogozen, BJE's Director, Center of Excellence in Early Childhood and Day School Education at [email protected] at 323.761.8622.

Photo Gallery