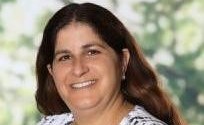 Welcome Michelle Porjes as Director of Project EnAble
BJE is proud to welcome to its staff, Michelle Porjes, Ed.S. as Director of Project EnAble.  
"I feel blessed to be a part of BJE," Michelle stated. "I look forward to partnering with Jewish day schools to bring affordable onsite services to students who need extra support  to maximize success."
Michelle is a credentialed school psychologist and a licensed educational psychologist in the State of California. She earned a bachelors degree in psychology from UCLA, a masters degree in educational psychology from the University of Denver and masters and specialists degrees in school psychology from the University of South Florida. Michelle has been involved in Jewish education for almost 25 years. In addition to her position at BJE, Michelle is the Director of Student Services at the Rabbi Jacob Pressman Academy of Temple Beth Am where she specializes in consultation, program development and supervision.  
Michelle and Pressman Academy were early adopters of BJE's Project EnAble to help meet students' diverse learning needs. Project EnAble is supported by a grant from the Jewish Community Foundation. 
To read Michelle's full bio, click here.