RESHET Communication Skills for Challenging Times with Kathy Simon, PhD - Part 1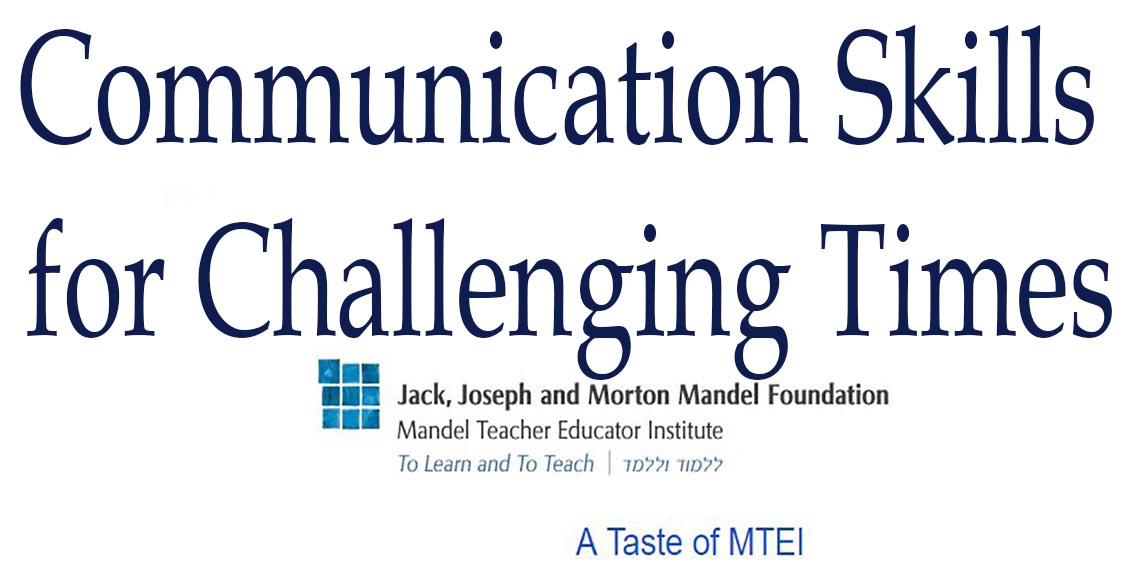 Communication Skills for Challenging Times with Kathy Simon, PhD
At this moment, it's hard to get on the same page with colleagues and family members, let alone people whom we see as "other" in some way. Sadly, our patterns of speech often exacerbate differences, rather than to help us collaborate.
In this workshop, we'll explore a few key ideas to help hard conversations go easier.

The Mandel Teacher Educator Institute (MTEI) invites you to join us for a Taste of MTEI starting July 7, and this is the first in a series of four.  
MTEI is an immersive learning experience for Jewish Educational Leaders transforming you into an extraordinary teacher of teachers. While extended/multi-session learning is our specialty, we invite you to get to know a few of our world-class faculty and to sample the kind of learning we offer. We have four great workshops lined up for you on Tuesdays in July at Noon EDT.  Each workshop is 1 hr 15 minutes.  
Upcoming Workshops:
July 14 - The Bones of Joseph: The Things We Carry With Us in Times of Crisis with Barry Holtz, PhD  
July 21 - Building Teacher Community Through Video Investigation with Jennifer Lewis, PhD 
July 28 - Crossing Social Norms and Teshuva - Exploring a Rabbinic Tale with Elie Holtzer, PhD 
Space is limited.  Come for one or for all four.  Please contact David Lewis at BJE for registration login information.
OPEN TO Religious School Educators in the BJE Network